During JAMS installation, users may encounter a database error, "Profile Name is Not Valid," similar to the message below:
Microsoft.SqlServer.Dac.DacServicesException: Could not deploy package.
Error SQL72014: .Net SqlClient Data Provider: Msg 14607, Level 16, State 1,
Procedure sysmail_verify_profile_sp, Line 42 profile name is not valid
Why am I seeing this error?
The error occurs when the database instance has a database creation email trigger set, and one of the following is true:
The user creating the database is not authorized to access the mail profile referenced in the database trigger.
The mail profile specified for the database trigger does not exist.
Where will I find the error message?
Navigate to the DBUpdate.log file located at C:\Program Files\MVPSI\JAMS\Scheduler\ by default. Right-click on the file, and open with Notepad or a code editor. Search for "An error occurred" (omitting the quotes).
Below is a sample of the error block within a DBUpdate.log file. Your error message may vary.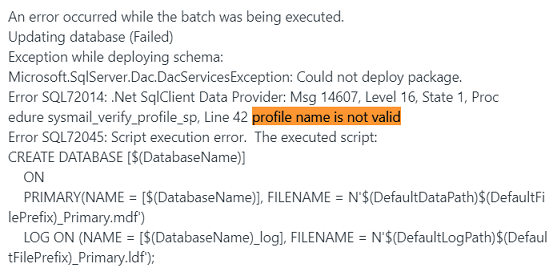 How do I resolve this error?
Ensure that the user who creates the database is authorized to access the mail profile associated with the database trigger.
Verify a mail profile exists or create a mail profile to specify in the database trigger.
If the above does not resolve this error, you may try re-installing the database on a different server that has the appropriate configuration. MVP highly recommends contacting a Customer Success Engineer prior to taking this action.