During the initial installation of JAMS, the Microsoft Dynamics AX Add-in should be selected in order to install the necessary components to create Dynamics AX jobs.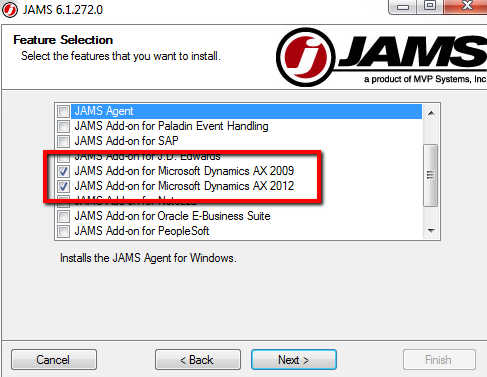 After this has been completed successfully, the options will be seen listed among the Execution Methods:

The following listed error may be seen during the creation of a Dynamics AX Job error after opening the Job Source:

.NET Business Connector for Dynamics AX must be loaded on the JAMS Scheduler machine and configured to allow an external application to connect. The instructions for doing so are outlined by Microsoft here: Install the .NET Business Connector
Important: Specify the .NET Business Connector proxy account, and Create a Configuration for the .NET Business Connector.
Upon completion, restart the JAMS Client, then open Job Properties and the Dynamics AX form will load in the Source Tab.