After upgrading to a newer version of JAMS, a job failure may occur with the following error message,
"Negotiation failed. The client and the server have no common key exchange algorithm."
Why does this happen?
This error message indicates that JAMS is forcing a secure connection with an algorithm that is not supported by the remote server. Due to the recent discoveries of encryption algorithm vulnerabilities, JAMS now forces a remote server to use secure ciphers only.
How can I resolve this error?
Upgrade the remote server to accept more secure encryption key algorithms, OR
If a secure algorithm cannot be used, (not advisable), JAMS can be configured to allow for a smaller minimum DiffieHellman algorithm key size. To specify a smaller key size perform the following:
For FileTransfer Execution Methods, specify the "Minimum Key Size" in the Options tab of the job source as shown: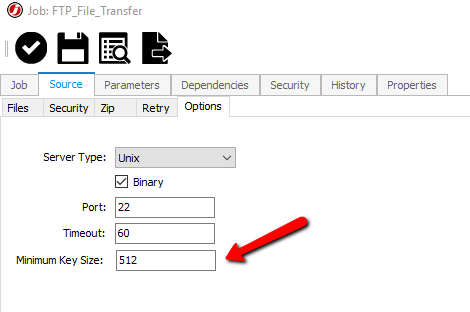 For Powershell, specify the "Minimum Key Size" argument using the Connect-JSFTP cmdlet:
-MinimumKeySize <Int32>
Sets the minimum DiffieHellman key size in bytes (0 for default).
For Workflow jobs using any JAMS SFTP Activities, set the "MinimumDiffieHellmanKeySize option: